July 18th, 2008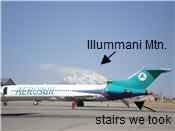 Finally out of Santa Cruz, our flight reached La Paz at noon. Stepping out of the back of the AeroSur plane, we could already feel the lack of oxygen in the air. It got worse as we walked into the airport, and got our luggage. We noticed a Medical office right by the baggage claim, and decided to walk in. This is a free facility for anyone suffering from altitude sickness at this highest airport in the world, 4000 meters. The lady was helpful, and after a few minutes under the oxygen mask we felt better. She advised us to take it easy for the day, eat pasta, and have coca tea. What an awesome combination, and these were the doctor's orders!!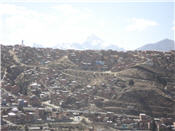 Although still finding it hard to breathe, we could not help what little breath we had be taken away by the amazing scenery on the way to our hotel. This crazy city was built up as far as the eye could see spanning all the hills, mountains, valleys, and slopes of the Andes. We were going downhill from the airport to the actual city, our jaws dropped to the floor and feeling slightly better off for the lower altitude. The taxi turned into the main street of the tourist area, which was an experience in itself. Bustling crowds, bright-coloured little shops along the narrow, cobble-stoned streets, chaotic traffic trying to squeeze itself through all this with brakes screeching while trying to go down steep slopes at a snail's pace.
We finally arrived at the hotel and entered what was only a set of glass doors, which led to another, which made way to a cool, cozy indoor courtyard/patio surrounded by shops, a travel agency, a cafe, a pizzeria, and a flight of stairs leading up to the rooms and the reception area. Struggling to even climb this set of stairs and carrying our baggage up, we were completely winded as we entered the reception area. This was such a total fluke-find based on a leap of faith, and completely took us by surprise. It was awesome!! We couldn't stop repeating to ourselves how wicked this place was, how inexpensive it was, and how Santa Cruz totally sucked by comparison!
We quickly dropped off our bags, noticing the room was immaculate and smelt good, and headed down to the cafe to get some coca tea. This tea apparently is drunk by all those living at this altitude to relieve altitude sickness, get energy and strength... given it's derived from the same plant as... well... cocaine! We drank it like medicine and decided to follow the doctor's orders and rest the rest of the day. Before we called it a day, we dropped by the travel agency and asked for tour options. We found that there was a tour to some ancient pre-Inca ruins – apparently the most famous in Bolivia – near La Paz, as well as a couple of guided city tours. We said yes to both, and were advised to do the city tours on Sunday when there'd be less traffic... and so, tomorrow was our visit to Tihuanacu, an archeologically site a couple of hours from La Paz.
We were already feeling the headaches, fatigue, and heaviness of breath hitting us, in spite of the coca tea so we just went off to bed. In spite of how we were feeling, we were excited to explore this city.
July 19th, 2008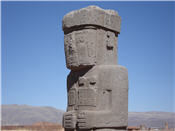 We woke up early to catch our guided tour to Tihuanacu, having filled up on breakfast and more coca tea! The tour bus went around La Paz, picking up tourists from various hotels/hostels and gave us a better glimpse of the city. The bus went back up towards the airport, to the higher altitude, and passed the city of El Alto – this is where the poorest of La Paz live. The traffic was crazy, and all we could see were these mini vans that acted like local buses – jam packed and swerving around. We left the city, and got to view some more amazing scenery of the Altiplano – a high plateau surrounded by the Andes chain of mountains. The scenery consisted of amazing peaks, farm land, cows, donkeys, sheep, pigs, and small villages. We finally got to our destination – Tihuanacu – pre Inca ruins. Our guide had been talking all this time, giving us tidbits of information in English and Spanish. We walked up a hill where the 7 steps of a pyramid was slowly being excavated. We were able to take photos today because the archaeologists were off for the weekend. On the whole, we were kinda bored, and not too impressed. We tried our hardest to not compare this to the Egyptian pyramids, but you know...we're only human!! A part of the reason for our lack of enthusiasm was because it was going to be another full ten years before the ruins were fully excavated and restored to show a glimpse of what it may have been like. Since we couldn't abandon the tour, we walked along and took pictures here and there until it was time for lunch.
Lunch was an interesting affair, sitting around a table like a cafeteria with our tour group in a large hall. We got to talking to a few Brazilian guys who were travelling together – all friends from Sao Paolo with various professional backgrounds. The best English/Portuguese we could muster got us sharing some of our Brazilian stories and also shared an interesting episode around the really, really, spicy hot Salsa they were serving at lunch. They were intrigued by the amount of this salsa Karthik was gulping down. The palates instructor and the mechanical engineer bet the flight attendant 50 Bolivianos to have an entire spoonful of it. When Karthik offered to do it, they all laughed and said that such a bet would be useless. Anyway, the flight attendant did it...and we all had a great time watching him breathe fire out. Karthik was even able to get a 1-Real coin, the one item missing from his coin/currency collection! He's a geek and he knows it!! So, the main interesting item at lunch was the Quinua soup, a hot vegetable and lentil soup made from quinua, a local lentil quite high in protein and being marketed around the world more and more. It was delicious!!! It was the highlight of our lunch.
So, after lunch, we headed off to visit the museums cataloguing the history and culture of the Tihuanacu civilization – these ruins were of the civilization's capital. Some interesting ceramics, a somewhat preserved Mummy, and a bunch of other things they were able to excavate out of the ruins. Other than that, nothing to write home about!! And so, was our day at the ruins – expected more, but the drive there was interesting; met some cool people; and got to walk in the sun for a while! On the way back, these American and British tourists started talking about their 'incredibly long and varied' travel experiences that spanned months and months and many, many, many stories. While initially OK, it was incessant and lasted the full 2 hours drive back to our hotel. It was jarring to hear some bad stories and other aspects of their travels that was bordering on a 'who's got the better set of experiences?' debate. Ah well... guess that's to be expected from going on tours... tourists!
Finally, our tour ended and we headed off to our hotel, and decided to do some shopping at the markets around our hotel, built on the steep, cobble-stoned streets that the local traffic somehow seems to navigate through.
Upon returning to the hotel, Karthik wasn't feeling too good – shivers, nausea, headaches – from the altitude adjustment. So as he took a nap, Penny went to do some work in the courtyard of the hotel since there was Wi-Fi everywhere. She bumped into Dan and Brian, an optometrist and a teacher from LA who were doing their Bolivia vacation (we had talked to them briefly earlier in the day) and they were going to the terrace to catch the sunset and asked Penny to come along. Being on the terrace was cool as it provided a good view of La Paz and the main ice-capped peak of Illumani (over 6500m high), part of the Eastern chain of Andes mountains. As the sun set, and mingled with the clouds, the sky was a vibrant mix of pink, orange and red, while the snow on the mountain glowed... and was really spectacular! Penny insisted we had to check it out again tomorrow.
We weren't too impressed with the stuff the merchants were selling, as we were really looking for a doll/representation of the local Aymara women – who in their many layered frocks, sweaters, and topped off with an English bowler hat, made for quite the sight. This was the local dress, and about as universal as perhaps Saris are in India. Interesting that the hats were being worn because some Englishman 'tricked' the high-society ladies of La Paz to believing this was really fashionable a century or so ago! That was really hilarious to know, given all these local women were wearing these English hats too small for their heads and offering no practical value!
Anyhow, we ended up buying an 'Andean flute,' an instrument with many pipes put together to create the typical sound of the Andes. Karthik did his best to learn how to play it and got it for a few brief seconds, but overall, was a good addition to our musical instrument collection. We were getting tired and wanted to go back to our hotel, so we went to our favourite courtyard cafe at the hotel and ordered some wicked chicken sandwiches and coca tea and headed back to our room. We decided to update our blog and while we were in the process of doing so, the "blue screen of death" came on. Basically, our computer crashed, and it was a major one! It wouldn't even boot up for us to back up our data. The worst thing was, this was the main laptop we were using – for email, skype, websites, admin work, and travel itinerary details. We panicked. Really, we panicked. After considering all the options we had at that time, in that place, we decided to breathe and let it go. Some packing to do and tomorrow we head off to Puno, Peru!